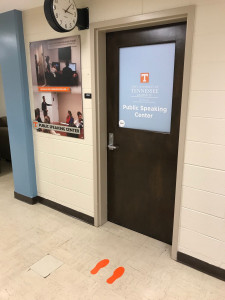 The online center includes a wide range of resources that can assist you with preparing and delivering presentations. We also house information on public speaking topics such as managing speech anxiety, constructing visual aids, identifying appropriate and credible sources, public speaking for ESL students, and resources for teachers.  Our public speaking resources can assist college students as well as K-12 students and those not currently enrolled in school.
The services and instructional materials we provide are free.  For more information about services for on-campus students at UTK including speech preparation and delivery coaching, speech video-taping, and managing speech apprehension, please visit the Public Speaking Center located in 260 Communications Building.
Mission
The mission of the UT public speaking center and its online counterpart TOPS is to advance oral communication skills of undergraduate and graduate students.  The center serves a variety of courses including:
Basic Public Speaking
Advanced Public Speaking
Business and Professional Communication
Graduate Level Communication Education Courses
Applied Oral Communication General Education Courses
In addition to supporting communication courses, the center can provide services to other academic or administrative units on campus.  Online resources are available through TOPS for those not resident on the UTK campus.
Please review our menu for a complete list of resources and services.
Tennessee Online Public Speaking is designed and maintained by faculty, staff, and graduate assistants working at the Department of Communication Studies at the College of Communication and Information at the University of Tennessee, Knoxville.
Acknowledgements:
The following individuals have been instrumental in building TOPS: John Haas, Sandra Cabbage, Jill Bergeron, Lorna Keathley, Kathy Braun, Tori Bertram, Kylie Julius, Woody Holmes, Dennis McCarty, and Lilli Tillman.