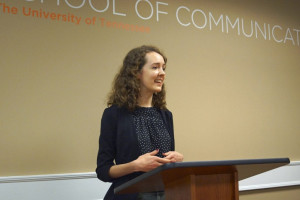 Master's Student Grace Loy
What is the Public Speaking Center? 
We are a free tutoring center available to all UT students, at both the undergraduate and graduate level.
Do I need to make an appointment for tutoring?
You can walk in at any time during our hours. Virtual Zoom tutoring is by appointment. If you would like to schedule a Zoom appointment, please email us at tops@tennessee.edu.
How do I contact you?
For more information or answers to a question not listed here, please email us at tops@tennessee.edu.
Where is the Public Speaking Center? 
The Public Speaking Center has two locations: our primary location in the Communications building on the second floor, in room 260 and our new satellite location in Hodges Library 220G North Commons.
What are your hours? 
For Spring Semester 2022, our weekly hours are as follows (subject to change):
COM 260 Hours (Additional Walk-In Hours may be available)
Monday: 10:30 – 11:30am
Tuesday: 9am – 10am
Wednesday: 8 – 9am, 12 – 1pm
Thursday: 9:00 – 10am
220G North Commons Hours
Monday: 12 – 3pm
Tuesday: 12 – 5pm, 6 – 7pm
Wednesday: 1 – 5pm
Thursday: 12 – 5pm, 6 – 7pm
What is TOPS? 
The Tennessee Online Public Speaking center is our online extension of the on-campus Public Speaking Center. Here, you can find resources about preparing, constructing, and delivering your speech. You can also schedule a Zoom appointment for contactless tutoring assistance. 
Where are the public speaking resources on TOPS? 
Click the "General Resources" tab
Do you only help with speeches for Communication Studies classes? 
NO. We can assist you with any speech/presentation for any course or university requirement. From science courses to English courses and anything in between, we can assist you with your speech! 
How can you help me with my speech? 
We can help with all stages of creating or delivering a speech. We can help you choose a topic, research your topic and locate scholarly sources, create proper citations, construct your visual aid, create an outline, practice your delivery, and provide feedback to help you improve. We can also help you record your speech in our soundproof rooms, as well as offer tips to manage speech anxiety. 
I have to give a Zoom presentation. Can you help with that, too? 
Yes. We can help with any stage of creating or delivering a virtual presentation. If you prefer a contactless experience or are a distance education student, you can schedule a Zoom appointment with one of our instructors. 
I'm not sure where to start. Can you help me get started on my speech? 
Yes. You can walk into the Public Speaking Center or schedule a Zoom appointment and one of our supplemental instructors will be able to help you. 
Can you help with a foreign language presentation?
While we cannot help with content (since our staff may not speak the language), we can provide feedback on delivery. Please note that good delivery practices are similar for any language, but they may vary by culture. You can also use our soundproof rooms to record your presentation and critique yourself, as well as receive feedback on your presentation delivery.